Craig Widdison Interview After Willi Willi Takes The Out Silver Bowl & Twitter Reactions
Jul 09, 2017
Beau Mertens, the star apprentice had a field day on Saturday winning the Listed A.R. Creswick Series Final aboard Lindsay Park's Highland Beat, and the Silver Bowl Final aboard Willi Willi,
Highland Beat and the Craig Widdison-prepared Willi Willi were the latter two pins of a winning treble for Mertens, who also won the Leilani Series Final aboard Schism for Ciaron Maher, farewelled his 1.5kg apprentice claim after taking his career metro winner's tally to 81.
WILLI WILLI
3yo Bay Gelding
D.O.B: 13-Sep-2013
by MINT LANE (USA) from ASEELAH
5x Pedigree Report

Owner's Details Jacka Investments Pty Ltd
See Craig's Interview with Racing.com.
What Was Tweeted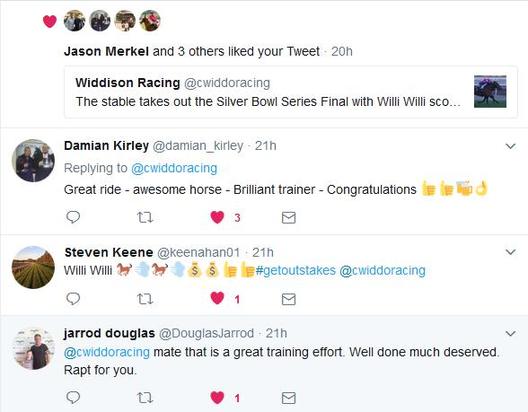 Thanks to everyone for your support
including
(Image: Racing Photos) Beau Mertens returns to scale after completing a treble with his win on Willi Willi
Brad Bishop@bradbishop12