Lord Laurie Resumes From A Spell At Wagga
Mar 06, 2017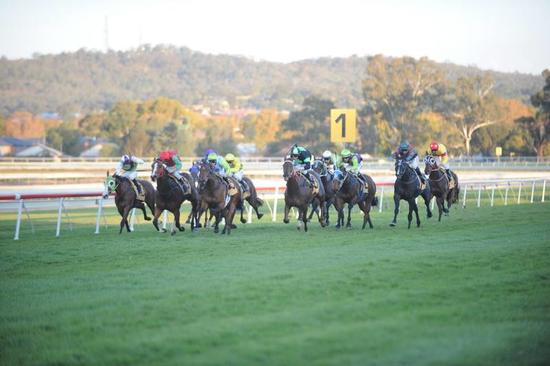 The team at Craig Widdison Racing will supply one runner in the form of Lord Laurie to the Wagga Murrumbidgee turf club meeting on Tuesday, March 7, the weather is predicted to be fine, racing on a good four, with seven events set down for racing.
The single stable runner Lord Laurie will compete first up from a spell in the Raine and Horne, Wagga three-year-old maiden plate over a 1000m, with Richard Bensley aboard jumping from barrier five.
Lord Laurie is a three-year-old Bay gelding having raced on seven occasions for 4 placings earning prize money exceeding $14,000.
Last time out he raced at Wodonga on September 12 finishing fifth of 7 over 1300m, on a heavy (9), with Jake Bayliss aboard arriving 4.60 lengths behind the winner, Simply Invincible in a time of 1:21.01.
The stable wishes connections the best of luck at Wagga on Tuesday.
LORD LAURIE
3yo Bay Gelding
D.O.B: 15-Sep-2013
by MAGNUS from EMBERS
View Pedigree Report

Mr R H Sloane, Mrs S M Sloane
2nd of 8 COR 09Aug16 900m Soft7 CG&E MDN $20,000 ($3,815) Ms Lily Coombe (a) 55kg (cd 54kg) Barrier 5
1st Bulala 59kg, 3rd Mr Paul 55kg 0:53.38 (600m 34.20), 1.8L, 2nd@400m, $3.50/$3.20 Video Replay:
Full
Last 400m
3rd of 12 ECHA 22Aug16 1109m Heavy8 MDN-SW $20,000 ($1,600) Mitchell Aitken (a) 56kg (cd 54kg) Barrier 10
1st Love is Great 53.5kg, 2nd Lucky Beau 56kg 1:08.20 (600m 37.46), 0.85L, 2nd@800m, 2nd@400m, $18/$21/$21
3rd of 10 WOD 29Aug16 1200m Soft6 3Y MDN-SW $20,000 ($2,800) Jake Bayliss (a) 58kg Barrier 6
1st Milwaukee 58kg, 2nd Simply Invincible 58kg 1:12.28 (600m 36.54), 3.25L, 4th@800m, 3rd@400m, $11/$7/$7
5th of 7 WOD 12Sep16 1300m Heavy9 3Y MDN-SW $20,000 ($600) Jake Bayliss (a) 58kg Barrier 2
1st Simply Invincible 58kg, 2nd Queen Magdalene 56kg 1:21.01 (600m 37.72), 4.6L, 4th@800m, 3rd@400m, $8/$10/$9.50/$10